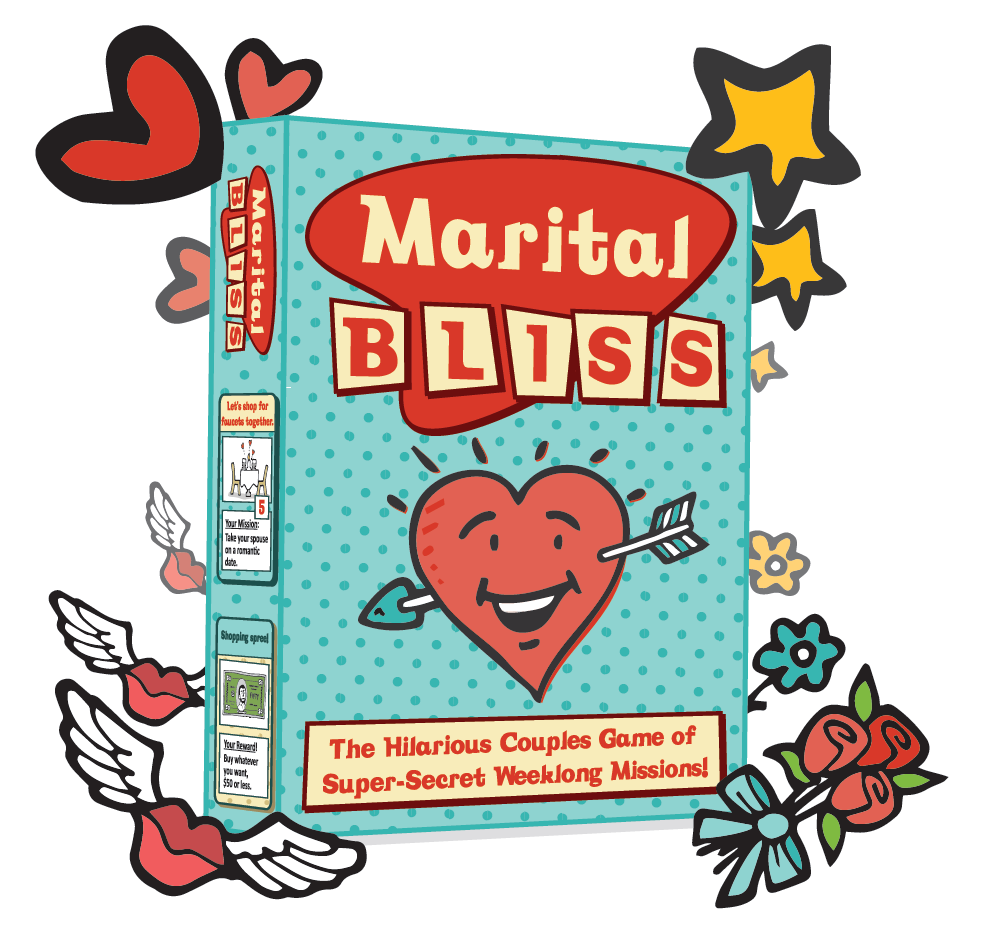 After 10 years, it's finally happening!
In 2023 we'll be releasing a completely overhauled version of Martial Bliss with some much-needed (and often requested) enhancements. It's an exciting time because the updates are the perfect combination of personal convictions and business needs.
You can read Part 2 and Part 3 of this series here.
Personal Convictions
It's still feels pretty surreal that 10 years after we launched our game it continues to sell well. But, over the years we've collected so much great customer feedback, and so many things have changed in the world at large, that some of the original content we put in the game makes me cringe.
So, for our 10th anniversary, we decided to sit down and do all the changes we've talked about doing.
First, and foremost, we wanted the game to feel more inclusive. Marital Bliss has always been a game that can be played by any couple, but I'd forgive anyone for taking a look at the current game and making an assumption that it might not work for their relationship.
The majority of our update efforts have revolved around making the new version as inviting as possible to anyone who might want to check it out… while retaining the uniqueness and humor that makes it stand out. Next week's post will delve into that process, what we learned, and the decisions we had to face along the way.
Business Needs
From a marketing perspective, it's pretty straight forward: relaunching the game gives us something new to talk about.
A remastered product gives us a reason to reach out to creators, buyers, and influencers to say "Check this out!" Even with our historical success, many people still haven't heard of the game. So, now we have the best of both worlds: something new, updated, refreshed, and modernized that not only has proven success, but all the primary concerns people mentioned over the first 10 years have been addressed.
My favorite thing about Marital Bliss is that the core value hasn't changed. It's still unique. There's really not many other options out there to gamify your day-to-day married life.
As with any product, sales of Martial Bliss have normalized over the years, and it's a testament to the value of the game that we're still selling what we are. But, I'm thrilled that these new enhancements give us a great opportunity to inject some excitement and interest back into the game.
Where does it go from here?
I have no idea. And, that's the most exciting part. We've done the hard work and the planning. Now, it's up to the market to decide. Will our updates be well-received? Can we capture the attention of the buyers and customers, and convert that attention into sales to support our business? Or, am I going to have to go find a "real job" someday?
Follow along with the blog, over the next several months, as we find out together. I'll share the thought processes and details that went into the updates… the imagery, the game enhancements, and more. I'll even be going into details on the marketing and promotion plans, and the (hopefully successful) results of our re-launch.
So come on back next week for part two, or subscribe and get an email notification right in your inbox when a new post is published.
Our updates, your inbox
After subscribing, look for our confirmation email. If it goes to your junk or spam folder, add us to your safe senders list!
---
Recent Posts