Selling on Amazon is incredible. For small businesses started by independent and entrepreneurial-minded people, Amazon offers unparalleled opportunities. We get nearly complete control over the messaging, promotions, and advertising of our products, and Amazon handles the shipping and logistics for a nominal fee. When it works, it's astounding. The ease at which anyone in the world can use Amazon to find customers for their products is (in my humble opinion) a benefit to humanity.
Until it's not. Because you depend on the machine. The machine doesn't give a shit about you.
A Black Friday
It started at 10:41 PM on Black Friday. We were one sale away from setting a new daily record when our account was deactivated. The email told us that Amazon needed "additional documentation to verify your identity." It should have said: "We just obliterated your holiday sales expectations."
Every seller needs to verify their identity when they first sign up. Why now, after a year of selling, did they need us to do it again? Let's find out…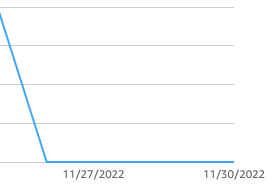 Step 1: Have a Utility Bill That Matches the Account Name Registered with Amazon
To re-verify, Amazon asked for our business license (✅) and a utility bill matching the name and address registered with Amazon (⭕). Uh oh… we'd used a bank statement when we first signed up, not a utility bill.
All our utility bills were in my name, and our Amazon account is in Nicole's name. It was a holiday weekend and all our utilities were closed. In a panic, we opted for the "kitchen sink" approach and sent Amazon more than they asked for:
A utility bill
Our business license
Our marriage license (since the utility was in a different name).
A pay stub from an employer showing Nicole's name and address.
A bank statement

This was our first mistake, because I don't think a human reviewed that submission. Sure enough, at 2:58 a.m. on Sunday morning Amazon emailed us to report the obvious: a utility bill, business license, marriage license, pay stub and bank statement couldn't possibly be enough information to verify our identity (/sarcasm). I think the mostly likely the problem was that the AI algorithm couldn't validate what we submitted.
We needed to do a video call. Fine. We hopped online… and discovered the earliest appointment available was 8:00 a.m. in three days. Thanks Amazon.
Fortunately, there was some small print that said we could immediately join a live call if we just waited till 7:00 p.m. that evening (Sunday). So, we waited.
Step 2: Survive the Video Call
We shipped the kids off to Grandma and Grandpa's for the evening and gathered every possible scrap of business documentation we could find to get ready to run the video-call-gauntlet. We anticipated an hours-long virtual queue and an intense grilling, but were pleasantly surprised to join a video call immediately at 7:01 p.m. The friendly agent asked only to see Nicole's driver's license. The call took less than 15 minutes and concluded with the representative telling us that everything looked great.
Then she dropped the bomb: Amazon would get back to us within 72 hours! (Good thing we hadn't scheduled that appointment for Wednesday).
Step 3: Just Wait It Out
Cyber Monday came and went, and our account was still locked. We hadn't heard anything new from Amazon, so we did what we could do. We changed two of the utilities into Nicole's name. One of utilities reprinted the statement right away, so I uploaded that to Amazon. This was the second mistake.
Step 4: Realize That Some of Amazon's Stuff is Broken
When I re-uploaded the bill, it reset the identify verification cycle to the beginning. Which meant that the next day (Tuesday) I received another copy of the same rejection email asking us to do another video call but…

Amazon wouldn't let us do another video call. We were stuck.
While we're talking about broken functionality… Amazon also has a nice Account Health page which tells you all sorts of helpful information like: "Your account has been deactivated" AND on the same page, your account is "Healthy."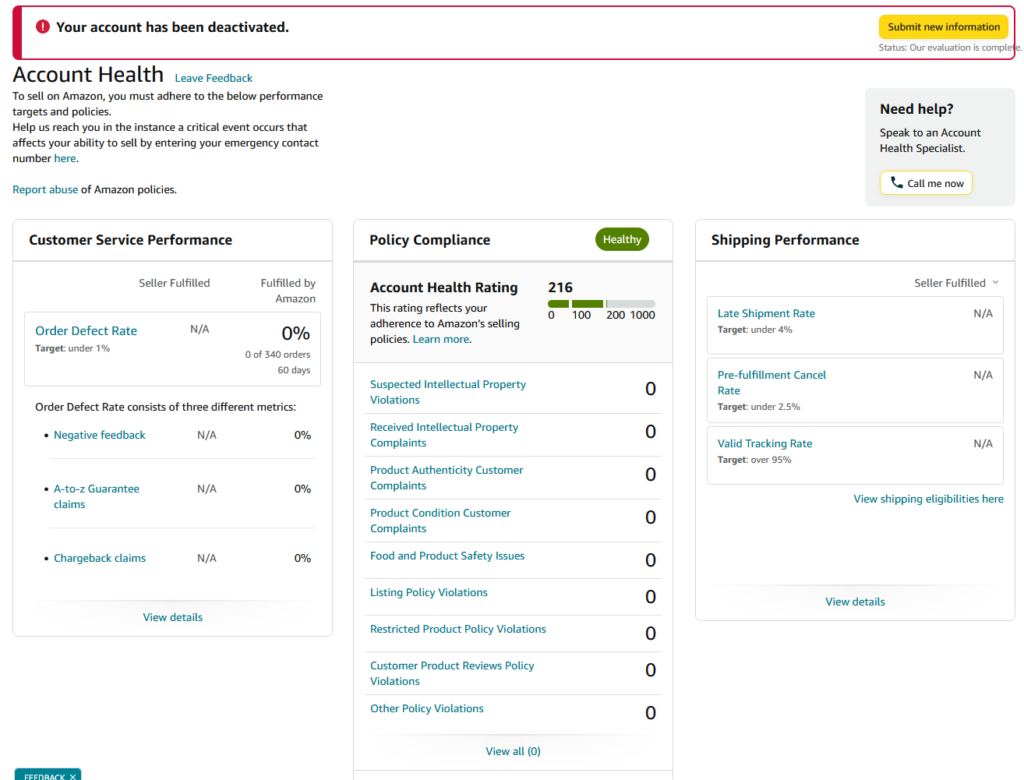 You're probably wondering why we hadn't clicked that big "need Help" button?

This is unbelievable but completely true: that button did not work for the first four days of our suspension. I would click the button and enter necessary information. Then it would pause for five seconds (I counted) and say "Your call has ended. If you need to speak with us again, please request another call."
I clicked that button hundreds of times on different days, using Firefox, Chrome, and Edge browsers and even tried multiple different phone numbers. It never worked.
Until it did. On Wednesday, at 7:27 am. I spoke to a real person.
Step 5: Pity the Support Team
Can you usually talk to a human when you have a problem with Amazon? Yes.
Will that person have any ability to fix your problem? No.
My heart goes out to the people responsible for handling front-line support for Amazon. They are so siloed with such a narrow scope of responsibilities that they are completely ineffective. When we finally spoke with Fatima, she didn't know why our account was disabled ("Your identity verification is needed"). She didn't know when our account would be reinstated ("You'll will be contacted when more information is available."). There was no escalation path available to us ("There is no manager I can transfer you to.").
All she could do was sit there and take it as we unloaded days of pent-up frustrations on a real-live human. (Sorry, Fatima.) Then, she and every other rep we talked to during our suspension would offer the exact same few responses over and over, which would usually be an apology followed by "I have shared your problem with the team responsible for investigating this situation. You will be contacted when they have more information."
And, no, we couldn't talk directly to that team either.
Step 6: Desperately Post on Amazon Seller Forums
Amazon's Seller Forum is only available to registered sellers, and it often provides more value and insights than Amazon's own support team. You won't get your problem resolved there, but you will bump into grizzled veterans selling way more products than you who've been there and done that. They might give you some insights into the "why" and maybe even give you some help with the "how to." You may even reach an actual Amazon employee who will graciously offer to "contact the appropriate team about your situation," again.
Just know, you'll never be the same after you wander into the "Account Health" category and start reading post after post about deactivated accounts with titles like "Please help" and "Why!?" and little prayer emoji hands. 🙏
There are countless sellers on the forums who have been shut down for months, caught in endless loops of email rejections and no real insights how to fix their problems. Sitting on products they can't sell, and thousands of dollars in loans they can't pay back. In a worst-case scenario, like if a customer makes a claim that the product they bought is fraudulent, Amazon might have completely closed their account and withheld all their funds.
I have no way to verify the authenticity of what's on the seller forum… but it feels alarmingly close to my own experience. Those sellers might be unscrupulous rule breakers who deserve what they got. But, maybe, they just got caught up in algorithm hell. A broken cog in an automated machine that doesn't need or care about them.
This might sound like hyperbole, but I assure you it's not. The sense of despair, of futility, you feel when Amazon takes everything from you, gives you no information, and offers little recourse is dangerous.
Step 7: Your Account Works Now
After six days (and 86 hours after the video call, if you're counting) our account was reactivated. Our only recompense was a generic email with no explanation. We never found out why Amazon made us miss the biggest sales days of the year.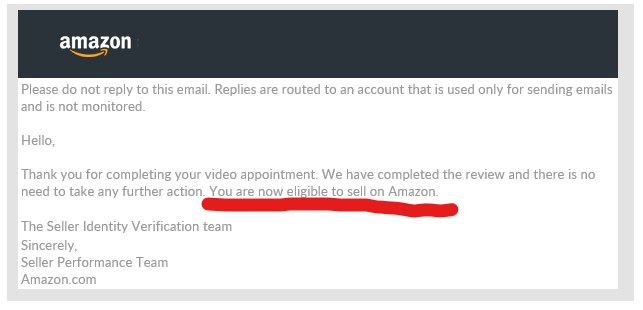 This whole thing seems like it could have been avoided: give us a grace period (7 days?) to submit the information needed. Instead, I'm writing this blog and warning others: Even if you try to do everything by the book, Amazon can (and may) destroy your livelihood overnight without warning.
The severity and impact that occurs when an account is suspended is immense, Amazon should feel obligated to fix their broken tools and add more transparency to their suspension processes. Their support team needs more autonomy to be able to better articulate problems to sellers, suggest resolutions, and fix problems.
Until then, however, sellers beware.
Our updates, your inbox
After subscribing, look for our confirmation email. If it goes to your junk or spam folder, add us to your safe senders list!
---
Recent Posts