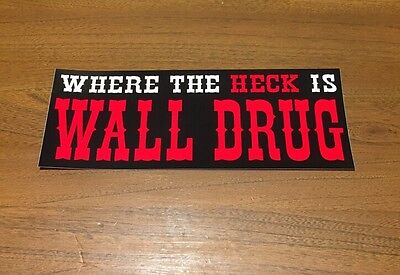 I spend a lot of time thinking about Wall Drug.
If you've ever had the pleasure of driving through the wastelands of South Dakota, you've almost certainly seen a sign for Wall Drug. It's an American tourist trap with all the normal trappings: tchotchkes, mediocre food, and $.05 coffee. But this particular tourist trap sees over 2 million visitors a year.
The origin story about Wall Drug is the part that most interests me most. As the legend goes, a young pharmacist and his wife purchased a store in the middle of nowhere South Dakota in the early 1930s. They toiled there unsuccessfully for five years, barely able to keep the doors of their business open.
Then, finally, in 1936 they found some success. Not as a pharmacy… but instead because of an advertisement. They put up a sign offering free ice water to hot and thirsty travelers heading towards the newly-opened nearby Mount Rushmore.
It worked. They started getting more visitors and, most importantly, some of those visitors converted into paying customers. They leveraged that success and pivoted their business from a pharmacy into something else that catered to tourists. They continued their clever advertisements and solid business practices, and after years and years the location has grown into the destination it is today.
It's interesting to consider the inflection point. That moment when, after five years of failed efforts, things finally started to click. On one hand, their success was dependent on being in the right place at the right time. Their environment changed: Mount Rushmore opened. But, on the other hand, they not only recognized the opportunity they capitalized on it and continued to evolve to meet changing demands of tourists for the following 80+ years (ice water's not quite the draw it used to be).
I'm sure the original owners, Dorothy and Ted Hustead, tried countless ideas to grow their business over those first five years. Time and again they ran into dead ends and somehow had to muster up the grit to face the next day and figure out a new approach. How many times did it seem like the most reasonable choice might be to close the store and try something different? How close were they to giving up when success was lurking right around the next corner?
And, most interestingly, unlike Wall Drug how many businesses gave up along the way? How many businesses are lost to time and obscurity when the success they so desperately needed was hidden just past… that… next… hurdle.
Our updates, your inbox
After subscribing, look for our confirmation email. If it goes to your junk or spam folder, add us to your safe senders list!
---
Recent Posts