Mix a pandemic with skyrocketing prices for everything, throw in a helping of social unrest, and shake aggressively with a burgeoning war. Simmer all that together for a few years, and you have a recipe for global mental health problems.
May is Mental Health Awareness Month, and I'm dedicating this post to the fact that we've all been through the wringer over the last couple years.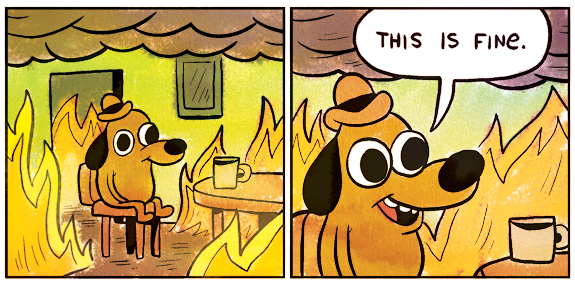 This year in particular has been an adventure for me in many ways. I stepped away from safe, comfortable, predictable employment to begin a new phase. And, while this is something I've been planning for and working towards for years, the move has come with a surprising amount of baggage.
I underestimated how accustomed I was to traditional employment. The calls, meetings, teammates and co-workers all give a structure and purpose to the days. The freedom of self-employment is a double-edged sword. I can pursue what I want but it is incredibly easy to drift.
The phrase "What am I doing with my life!?" has popped onto my radar far more frequently over the last several months than I ever expected. And, typically, this line of thinking is accompanied with some anxiety, fear, and / or some self-doubt about the decisions I've made, and where I'm headed.
I recently came across a blog post written by Hilary Jacobs Hendel, for the National Alliance for Mental Illness (NAMI), an organization I was familiar with from my previous job.
In the post, which I highly recommend reading, she discusses the differences between fear (which she defines as a core emotion we can't control) and anxiety (a reaction we can control, designed to keep us from feeling fear and other core emotions).
I was intrigued by her straightforward approach to topics like fear and anxiety. After reading her post, I moved on to her website where she elaborates on a tool she calls the "Change Triangle." Again, if this is a topic that interest you, I encourage you to read about it here. She had me hooked, so I hopped over to Amazon and purchased her book, and I have been working through it over the last month or so. I've found it to be a very valuable resource.
I most appreciate her pragmatic approach to this topic that often becomes confusing and complicated. Her book was a fantastic resource to help me build a vocabulary that I can use to identify and address the emotions like the anxiety I was feeling.
In addition, her Change Triangle concept is straight-forward, and has become a go-to reference for me as I've started identifying what she calls "defenses, inhibitory emotions, and core emotions."
To me, the simplicity of her approach stands in contrast against works from current mental health rockstars like the Brene Brown who speaks on similar topics, and has built a media empire consisting of multiple books, a Netflix show, and podcasts… but whose most recent book (which I haven't read yet) features "87 emotions and experiences" that define us as humans… I mean, 87? Where do you even start with something like that?
For me, it's much easier in application to start with Hilary's seven core emotions, and build from there.
In summary, take a minute and give some thought to your mental health this month. The last couple years have been a wild ride. If you, like me, find yourself butting-heads with anxiety far more frequently than you'd like, take a look at some of the resources I shared above. I've found them helpful, and maybe you will too.
In closing, I'll leave you with a reflection on the (slightly edited) timeless words of the neo-modernist philosophers, Quiet Riot and their song Metal Health (Bang Your Head):
Bang your head, raise the dead.
Me(n)tal health, It's not too bad.
Our updates, your inbox
After subscribing, look for our confirmation email. If it goes to your junk or spam folder, add us to your safe senders list!
---
Recent Posts